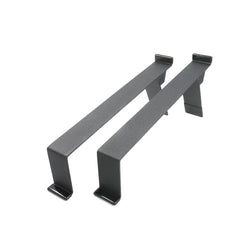 Rhodes MK II Straddler Stacking Stand with new folding design
This Straddler allows you to stack a keyboard on top of your Rhodes without ever touching the Rhodes lid itself, which prevents scratching, downward pressure, and other potential damage to your piano. If you want to stack a keyboard with an internal power supply, the Straddler also gives you more separation from the pickups in the Rhodes, which prevents hum and noise generated from radiant fields. You can even stack a Wurlitzer on your Rhodes piano while still having access to the Wurlitzer sustain pedal fixture underneath it.
They are cast medal bars, with a rippled powder coating and rubber end cushions, that are designed to fit on a later era flat top piano.
NO ASSEMBLY REQUIRED!!