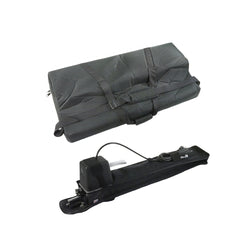 Wurlitzer Carry Kit
Ken Rich Sound Services - Wurlitzer Carry Kit
Easily transport your Wurlitzer with the Wurlitzer Carry Kit- (Wurlitzer Soft Case and the Gig Accessory Bag). 
Our USA-made soft cases for 200 and 200A Wurlitzer pianos are built to the high quality you've come to expect from Ken Rich Sound Services. Durable outside, 1/4″ foam padding, soft inside, then 1/2″ of extra foam padding and extra slick but strong covering along the bottom.
Our quality USA-made Wurlitzer Gig Bag adds a lot more ease to your Wurlitzer transportation. It's made to hold a set of legs, a sustain pedal, and a power cable plus other cables if required. It has separated leg compartments to protect the leg surfaces from damaging each other.  (Gig bag only, does not include pedal, cable, or legs)

Everyone who buys these tells us they could never go back to their old methods of Wurlitzer gear transportation.